Brooklyn Deli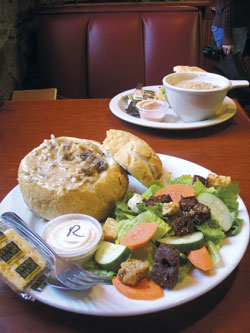 Katie says
When I think of a Deli, I picture an older man with a large belly and a thick mustache standing behind glass cases of meats, cheeses, and other assorted goodies. Jody Harville, the owner of Brooklyn Deli, and her employees are anything but old and portly. This downtown eatery has a funky artistic flair, a young vibrant feel, and great food to round out a very pleasant dining experience.
Brooklyn Deli is typical in the sense that it only serves the standards – hot and cold sandwiches, soup, and salad. Being a blustery, rainy day when I chose to partake of Brooklyn Deli's fair, I decided on the bread bowl soup. There's nothing like hot soup and delicious homemade bread to make you forget about the chill in the air. And the best thing is that you can eat the bowl when the soup is done.
For my sourdough bowl I chose the beef stroganoff soup. Now, I know that sounds like a weird thing to make a soup out of, but it was fantastic! More stew-like in consistency than soup, it had a melt in your mouth creamy flavor with the wonderful tang of sour cream you would expect in a good stroganoff. With tender chunks of beef, large slices of mushrooms, and radiatore noodles, it definitely hit the spot.
And to my absolute delight, I discovered that there was shredded potato in the soup as well. Being an Irish girl, red hair and all, I love any excuse to put potatoes in my food. It had never occurred to me to put potatoes in stroganoff. Brilliant!
To balance out the weight of the soup, I also ordered a garden salad. The vegetables were all extremely fresh, but the real clincher was the croutons. There were tons of them, and not just plain ones, but nice dark, crunchy rye ones, as well. Crouton lovers should rejoice because Brooklyn Deli will give you enough to have one in every bite of salad.
A word of advice, you may want to show up a little before noon or significantly after that. There is a definite lunch rush, and it does get rather crowded and hard to find a table right around the noon hour. All in all, I had a pleasant experience at Brooklyn Deli. This would be a great place to bring that special someone for an informal lunch date or to enjoy a lunch out with friends.
Andy says
I ordered "The Heated Boneyard Sandwich," which – despite containing mayo, beef, ham, salami, swiss, and cheddar – wasn't a gut bomb. If you're in a hurry, don't order a hot sandwich, as it takes some time to prepair.