Frank's Diner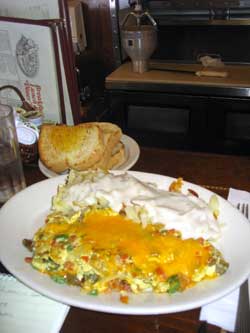 A.W. Rowse says
Frank's Diner has a large reputation to live up to. According to the large banner that hangs on the train-car shaped restaurant, Frank's has been voted "Best Breakfast in Spokane" (by the Inlander readers) for 11 out of the last 12 years. Those are some large shoes to fill. Having driven by the diner a million times without ever stopping in, I decided to go investigate the hype.
Most of the fun of the restaurant is the building, er, train-car itself. Built at the turn of the last century, the car was used for years as the personal car of the President of the Pacific Railroad (I think I just confused a Monopoly railroad with a real one but I don't think anyone is really paying that much attention). While the thing is tiny, the gigantic open windows kept me from feeling claustrophobic.
One of the key requirements for a diner is that your food must be cooked in front of you – Frank's was no exception. Due to the lack of space, the kitchen was crammed behind the diner counter yet somehow the cooks were able to crank out hash browns like a vegetable oiled machine. The other benefit of sitting in front of the grill is that the heat radiates off of it and keeps you nice and toasty in the winter (granted that this might cause a problem in the summer time).
Frank's menu contained everything I would expect to find on a breakfast menu. They had the staples – pancakes, waffles, eggs, hash browns, scramblers – which is all the options I really want for breakfast. I ordered the amusingly named Hobo Scrambler, which was a jambalaya of eggs, sausage, cheddar cheese, tomato, peppers, and onion served with hash browns and toast. It did the job but didn't inspire me to launch fireworks in celebration. The food tasted like the same meal I've had a million times at restaurants across the United States.
While the food was good at best, Frank's atmosphere is a standout winner. The close quarters gave it a communal feel as I sat at the counter literally rubbing elbows with other diners. I would bring people back to Frank's just for that authentic experience. As far as being "The Best Breakfast in Spokane," I've had better.
Franks is located at 1516 W 2nd Ave just off of Maple Street. For more information call (509) 747-8798.
Brian says
I pretty much agree with Andy, er ... sorry "A.W." (What a wanker.) My biscuits and gravy were perfectly decent but nothing to write home about. That said, eating in an old train car is fun for the whole family, and I'll definitely return. Just for the record, my favorite breakfast in town can be found at Bolo's Bar & Grill in the Valley, which serves reassuringly greasy and simply phenomenal food, with portions the size of your head.