Shook Twins prove that two is better than one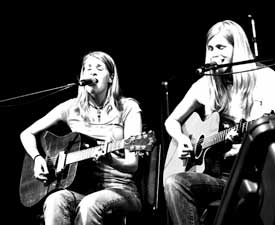 As far as the SiDEKiCK is concerned there are only two kinds of bands – those that blow us away and leave us begging for more, and everyone else who we forget about in a way that would make a goldfish jealous. The forgettable bands may get an article in the SiDEKiCK, but only those in the first category are eligible for the prestigious title of SiDEKiCK Pick of the Issue. This issue's recommendation for the show not to miss goes to The Shook Twins, an eclectic acoustic duo comprised of twin sisters Katelyn and Laurie Shook, a pair of extremely talented sisters who will perform on Friday, February 2nd at Brooklyn Nights in downtown Spokane.
When you listen to the Shook Twins, even live, it's hard to imagine that the dynamic sound they create is coming from just two people with little but their acoustic guitars and voices. Their music has the simple beauty of Alison Krauss, their voices combine like the Mamas and the Papas (minus the Papas) and Laurie can beat-box like the Fat Boys. (More on beat-boxing a little later.) They may be twin sisters but these two musicians have created an unbelievable harmony stemming from a bond that transcends their short years.
"Laurie and I have both been singing since we were in 5th grade and spent a good nine years in choir," explains Katelyn. "But it wasn't until we were seniors in high school that we started playing the guitar. We only had a couple of lessons that didn't go so well, so we pretty much taught ourselves how to play." While they have been singing for as long as they can remember, the sisters officially started playing together as a band in 2003 while in college at the University of Idaho where they were both studying digital media production. Now graduated, the twins are focusing on their music from their hometown of Sandpoint, a town that Katelyn asserts has been an awesome place to start their career.
"There are five or six great places for us to play in Sandpoint," says Katelyn. "Plus everyone in town is so supportive of our music even thought they hear the same 12 songs every time we play." Recently the twins put their technical skills to use to self-record a live album at the One World Café in Moscow, Idaho. Four tracks from this recording are available online at the Shook Twin's Myspace page (www.myspace.com/shooktwins). These amazing tracks are what caught the SiDEKiCK's attention. We are still amazed that they were able to capture such a dynamic sound with just two people – we can barely chew gum and walk at the same time let alone sing a two part harmony while playing the guitar (plus some occasional beat-boxing).
"Everything you hear is just Laurie and I," explains Katelyn. "Laurie has a looper that she is able to record tracks with and them loop them back, but all of the drum sounds are Laurie on the mic beat-boxing."
According to Katelyn, her sister learned how to beat-box back in high school when The Standards, an a cappella group from Twin Falls, gave a performance in Sandpoint. Laurie was blown away and started practicing with the band and had it down in just one day. She even got to perform on stage with The Standards at the concert. While Laurie doesn't beat-box during most tracks, when she does break it out she can definitely turn some heads. The twins have one song, playfully titled the "Beat-box Medley," that's a jumble of rap and R&B hits mixed into one eclectic a cappella song. From "Drop it Like It's Hot" to "Turn the Lights Down Low," the song has a little of everything. (You can watch the video on their MySpace page.)
"We first performed the song two years ago for a Halloween show and the crowd went absolutely nuts," recollects Katelyn. "It always goes over best when people are a little drunk. Laurie also likes to drop the beat when no one is paying attention – everyone turns their head because they think it is a beat machine but when they see it's Laurie making the sound they get confused. It's a really nice attention getter."
While Katelyn wouldn't promise to perform the Medley at Brooklyn Nights, she didn't say it was out of the question. The more people who are there, and the more adult beverages consumed, the more likely you are to hear the Beat-box Medley. And even if they don't play the song, it's just one part of an impressive collection of music that deserves a large audience.
Brooklyn Nights is located at 122 S. Monroe Street in downtown Spokane located directly behind Far West Billiards. The show is 21+ only, though they'll also be playing an all ages show at Caterina Winery on Saturday, February 17th at 8 p.m. The Brooklyn Night show starts at 9 p.m on Friday, February 2nd. For more information or to hear samples from the Shook Twins, look online at www.SpokaneSiDEKiCK.com.