Mistress and the Misters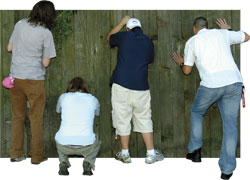 Tell me, how can you not resist a rock band that blatantly shouts out to you, "If I had something very nice that I could tell you, you're a bitch!" from the stage? Especially when the music is based on the rhythm and beat, and all you wanna do is just shake your groove on the floor? Head out to the Empyrean Coffee House this weekend when it combusts into a dance rage powerhouse with four bands that mix the rawness of a sound straight out of grunge with their own swing twists.
The above lyrics are from none other than the local funk band Mistress and the Misters, a misleading name for a band composed of only four guys. It's not entirely inaccurate, though, since there is always an official "mistress" of each show, as either vocalist Seth Swift or guitarist Chris Henderson fulfills that feminine role. Seth explains that Chris "got a hot blue zebra print mini skirt from my sister a few years ago, so every once in awhile, he goes ahead and throws that on."
"And I got fishnets just laying around," adds Chris.
Their garage music actually embodies as much eclectic flavor as their killer fashion style. There are the catchy straightforward tunes like the aforementioned "You're a Bitch!" or their album starter "Shot Me" that immediately proclaims their attitude from the very first note. Then there are the more apparent influences of jazz, swing, and blues throughout their other songs.
"The catch phrase that I've been using recently is 'danceable garage rock.'" Chris suggests in describing their overall sound. "It's very garage and not real polished and refined in a lot of ways, but we just want everything to be very up tempo and moving. We're big fans of the two minute and 15 second songs."
The songs are short and direct enough to fit Seth's rock-inspired ADD, and the clever lyrics punctuate the switching of literate meanings. Through combining the lyrical and musical elements together to create the unpolished garage experience, Chris explains that it's actually more of "the attitude that we bring to the songs that really keeps it. I don't think we're purposely trying to go for a sound. We don't talk together ahead of time and know that we want this to sound like this. This is just how we've evolved musically, or not evolved sometimes. We'd just have that rough sound."
"One thing that I like to say," begins Seth, "is that we're 'transgenred' almost like transgendered, and I found it really funny when I thought of that." This musical vibrancy and eclectic energy translates effortlessly into their live shows. Their live shows often include, but are not limited to, the rock 'n roll signs of Chris ripping open his finger from guitar shredding, Seth singing so hard that he pukes out into the streets after a show, or just experiencing the typical rock hangover symptoms of soreness and disillusionment the morning after a show. Chris recalls that "the shows are kind of a battle onstage, but it's so much fun. You let go and just go nuts."
"That's just kind of the element of our show," Seth replies. "The only thing you really can expect is that I might get naked. Other than that, we're always just wild and crazy."
Joining these misters crossing themselves as mistresses are Lane Morgan on percussion and John Cappuccio on bass and saxophone. You can check out their sound at www.MySpace.com/mistressandthemisters.
Julia Lipscomb is the publisher of The Lab Underground, a local alternative monthly publication whose goal is to help bring together the music scene of Spokane with community involvement. The next issue will be out in June. Until then, look for Lipscomb and The Lab online at www.myspace.com/thelabzine.