Ghost Rider predictably crashes and burns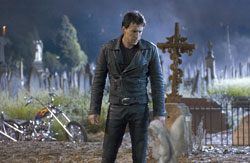 The only real hope I had going into Ghost Rider was that it would be hilarious – whether intentionally or unintentionally so. I held out absolutely no expectations that it would be a good movie in any sense of the word. If, on the other hand, you were generally optimistic about the film, then you probably shouldn't ever read this column again because you and I are never, ever going to agree on a given movie.
Unfortunately, Ghost Rider wasn't bad in the fun Walker Texas Ranger kind of way, nor was it better than advertised, or even memorably awful. Instead, there's nothing worth remembering about Ghost Rider, and no reason to see it in the first place. It's just a complete and utter waste of time. From the opening titles that look like a Mario Kart level set in hell, through the laughably melodramatic love story that acts as something of an inciting incident, all the way through the final scene, Ghost Rider is an intentional popcorn flick that still manages to take itself too seriously and, as a result, doesn't really work on any level.
The acting certainly doesn't help. I can't tell if Nicolas Cage is just phoning in his performance or if he's trying too hard to be cool. Either way, he's absolutely terrible. Not many people could pull off the role of a character named Johnny Blaze – a motorcycle daredevil by day and undead bounty hunter for Satan by night – and Nicolas Cage clearly isn't one of them. Sam Elliot fares a little better in a largely irrelevant role, while watching Peter Fonda play the devil was less fun than I'd hoped, as it was more creepy than anything else. Make no mistake in that regard, the theological elements, while without a shred of credibility or interrogation, are probably too intense for most kids. Even though this film is intellectually on par with your eight year-old son, I wouldn't recommend dragging him along.
To be fair, Ghost Rider probably isn't as horrible as I might be letting on, but it's every bit as forgettable. The climax, as such, is a giant letdown. In fact, every time the movie builds towards something that seems theoretically exciting, it falls off without anything satisfying happening. Then, finally, after sitting through what seems like endless exposition, the filmmakers decide to let the movie trail off instead of wrapping anything up, thereby leaving open the possibility of a Ghost Rider 2. I'm already mildly disenchanted with the state of contemporary Hollywood; in the not so distant future we're going to be treated to Shrek 3, Hellboy 2, Dr. Doolittle 3, Dukes of Hazard 2 and The Fast and the Furious 4. If we also live in a world where there's a Ghost Rider franchise, then I might have to just quit life.
I don't know what else to say about Ghost Rider, nor do I want to spend anymore time thinking about it. The only people I can imagine liking this film are X-Games fanatics and pyromaniacs. Because, as far as I'm concerned, there isn't enough substance for anyone else to care.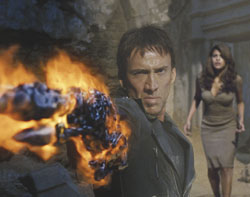 As a quick digression, could somebody please explain to me the criteria for film ratings? Ghost Rider gets a PG-13 rating despite being intensely violent and almost horror-like in its projection of the agents of hell. Yet just because nobody swears and there's no sex, that makes it OK? In reference to Bernardo Bertolluci's fantastic but hyper-sexual The Dreamers getting slapped with an NC-17 rating, Rolling Stone's resident film critic Peter Travers said, "You can blow off a head and get by with an R, but show someone giving head and you're accused of rocking the foundation of George W's America." Either the people that decide on ratings have a screwed-up value system, are intentionally perverse, or they're just dumber than your average cauliflower.