Prago Argentine Cafe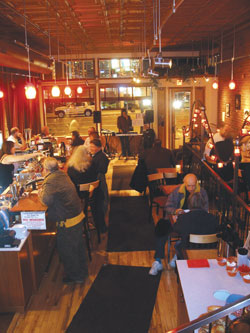 By A.W. Rowse
Prago Argentine Cafe is like a sorority girl – during the day, when her parents are about, she is a mild mannered little cafe offering a selection of light foods and a full espresso bar. But at night, with her friends, Prago goes a little bit crazy. Out comes the booze (the majority scotch and wine), up goes the music, and the party begins.
Last Saturday night was the first time I experienced Prago's wild side and was a little surprised when I found myself on the dance floor hopping around like a drunken idiot.
While the night ended a little fuzzy, it began in a civilized manner. When the SiDEKiCK entourage arrived, the crowd was tamer – a middle-aged couple enjoyed a glass of wine next to a group of high school girls sipping on coffee (yes, Prago is all ages). At this point local singer-songwriter Automatic Gainsay was singing his heart out as we sipped wine and scotch.
As the night wore on the music and crowd shifted to something a bit younger, a bit louder and a bit drunker. At this point our waitress pretty much disappeared and we later found her dancing her heart out on the small dance floor in front of the DJ. If you can't beat them, join them – and this is how I ended up dancing.
I was a little surprised at how much fun I actually had – while there was a live DJ, the music wasn't so loud that you couldn't ignore it and talk to friends. Prago's music schedule showed a lot more small acts and DJ for the future. In short, the music matched the venue, which was a nice thing to see.
Prago is located on the corner of Browne and Riverside in downtown, Spokane next to the Lion's Lair.
Brian Says:
"I like scotch."