An Dochas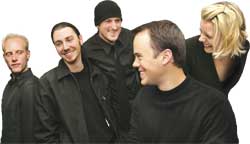 Gearing up for St. Patrick's Day, the folk rock-infused Irish music of An Dochas can be heard at the Bing Crosby Theatre on Friday, March 9th. Though the band will be in Seattle on the holiday itself, performing as part of the city's weeklong Irish festivities, their performance in Spokane is shaping up to be a memorable one. An Dochas hails from the Inland Northwest so the show is a homecoming of sorts and they will, of course, bring the Haran Irish Dancers with them for some traditional Celtic dancing to give a visual punch to their infectious, modernized version of the traditional Irish sound.
An Dochas is Irish for The Hope, which seems appropriate in light of their 2006 CD Dragonfly Redux being named Celtic Instrumental Album of the Year at the Just Plain Folks International Music Awards. Not a bad accomplishment for a debut, to be sure. Currently they're splitting time between playing shows throughout the Northwest (though at times their reach has been much, much farther) and heading into the studio to cut their second record. In the meantime, you can check out their DVD Beginnings, released in December, which gives you a pretty good idea of the visual and audio spectacle of the dancers and musicians, especially their impressive range and obvious zest for all things music, dance and life related.
Combining rock, folk, jazz and world music into an unmistakably Irish package, the result is an extremely approachable and pleasant amalgamation. You could describe it as Flogging Molly or The Dropkick Murphys for old people, but that wouldn't be giving them nearly enough credit. The energy that these five musicians and their accompanying dancers give off rivals just about any band around, and it seems like they're having a lot more fun than most in the process.
The Celtic Nots will be getting things started at 7:30 p.m for the all ages audience., followed by the headlining act and their dancing brethren. Tickets are $18 for adults and $15 for students and seniors, though group discounts are available. For tickets, log onto www.ticketswest.com, call 1-800-325-SEAT, or visit any TicketsWest location in the Inland Northwest (go to the calendar spread in the middle of this paper for a list). Additional information can be found at www.andochas.com.