Zodiac the definition of mediocrity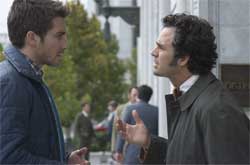 A lot of film critics, and I'm no exception here, exaggerate how good or bad a given film is. Mediocrity is rampant, especially in Hollywood, and mediocrity is boring to write about. As a result, the quality of a movie often gets over-hyped or downplayed in the interest of crafting a better review.
But there's no way to apply that to Zodiac, David Fincher's newest thriller, I guess you could call it, because it's a wholly mediocre film from start to end. It's moderately engaging, visually decent, averagely acted and so-so in story. There's nothing particularly memorable about it, nor conversely forgettable. It is – completely and undeniably – mediocre in every way. Which really disappoints me.
Not that Zodiac looked all that incredible from the trailers, but Robert Downey Jr. is always fun to watch, Jake Gyllenhaal is great, and I hold David Fincher to an almost insanely unreachable benchmark. The latter, though unreasonable, is for one reason and one reason only. It has nothing to do with the awful Panic Room or the extremely popular, almost pornographically violent and pretty decent Se7en. The only factor here is Fight Club.
I consider Fight Club to be the defining film of the current 20 and 30-something generation for a variety of reasons, perhaps summed up best with Tyler Durden's rant, "We're the middle children of history, man. No purpose or place. We have no Great War. No Great Depression. Our Great War's a spiritual war; our Great Depression is our lives. We've all been raised on television to believe that one day we'd all be millionaires, and movie gods, and rock stars. But we won't. And we're slowly learning that fact. And we're very, very pissed off." I love that quote; it's like Jesus meets Kurt Cobain.
At any rate, because of all this, even if Fincher pulls an Oliver Stone and starts making unwatchable movie after unwatchable movie, I'll still go into his latest film expecting brilliance on every level.
Sadly, Zodiac doesn't deliver brilliance on any level. The relatively interesting true story of trying to solve the mystery of the Zodiac killer is just that, relatively interesting – but nothing more. The recreation of late 60s/early 70s San Francisco is adequately pulled off, but not overwhelming. Probably the most interesting aspect of the entire case is Zodiac's role in becoming arguably the biggest celebrity serial killer since Jack the Ripper and there's enough of an investigation to be titillating, but not enough to be transcendent. Truly, this is mediocrity at its most mediocre (which might be the single dumbest sentence I've ever typed, but it's true).
If I had to extend accolades, it would probably be to the ensemble cast, from Gyllenhaal and Downey Jr. to Mark Ruffalo, Anthony Edwards and Chloe Sevigny, but their characters aren't really well-defined enough to be any more than slightly-above-average. On the other hand, there's no reason the movie had to drag on for over two and a half hours, especially when you're dealing with one of the most notorious unsolved mysteries in modern American history, and therefore have no real ending to lean on.
If anything, this movie goes too far in just telling the story of the cops and reporters obsessed with uncovering the identity of the Zodiac killer, and doesn't go far enough in the way of artistic liberty. The most interesting aspects about the Zodiac, in my opinion, are the afore-mentioned relationship with mass media and fame, as well as the killer's obsession with numbers and order, both of which are all but ignored by the filmmakers.
With a lot of directors, I kind of wish they'd just stay the hell out of the movie and tell the story without trying to dazzle the audience with their contrived camerawork, but that doesn't apply to David Fincher. He's such an adept filmmaker that I want more visual prowess, more aggressive moments and more commentary beyond just straightforward storytelling. Because Zodiac being a mediocre product in such capable hands makes it profoundly disappointing.