O'Doherty's Irish Pub & BBQ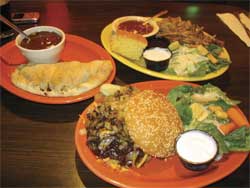 By A.W. Rowse
I have something that I need to admit before you read any further – I ate at a place called O'Doherty's Irish Pub & BBQ and didn't eat a single thing that contained potatoes (Katie did eat a Butte Pastie that does contain potatoes so it wasn't complete blasphemy, but close). I am ashamed that I didn't think to nibble on a single tuber byproduct, not even French fries. Really, there is nothing more Irish than potatoes… except maybe beer, which was something that I definitely didn't forget to order.
O'Doherty's Irish Pub & BBQ, located at 11723 E. Sprague in the Spokane Valley, is not the same restaurant as downtown's O'Doherty's Irish Grille. According to the menu the owners of the Valley eatery, Terry and Renee Best, were former founding members of the downtown O'Doherty's before opening their own location on East Sprague. While the two restaurants share a name, a comparison of the menus show that the Valley O'Doherty's is as concerned with their BBQ as they are with their Irish dishes. Fueling the fire and smoky BBQ taste, quite literally, is the restaurant's Apple Wood fired BBQ pit.
There is only one obvious beverage choice when eating Irish and that is Guinness. Problem is that Guinness is so heavy that I can't have a pint and maintain any sort of appetite. Bartenders discovered a solution for my dilemma when they invented the Black & Tan, a mix of Guinness and a pale ale such as Bass. While a Black & Tan is not a drink commonly consumed in Ireland, it is the only way I can enjoy Guinness and still have room for food.
This was my first time eating at O'Doherty's and I do admit, I was excited. I walk into the restaurant every two weeks while delivering and the BBQ smell that emanates from every surface makes me lose my will to work. The menu was like a surgeon general's list of what not to eat. The overall theme was meat, and lots of it. From every type of BBQ'd animal you could imagine, to Corned beef sandwiches and Irish stew, this was a carnivore's paradise.
I ordered the Ultimate Burnt End Sandwich, which is exactly as it sounds. I am one of those people that would rather eat the uber-cooked crust of a roast over the tender pink inside, so this is pretty much a sandwich made specifically for me. Every bite had that awesome flame broiled flavor and, with the help of a ton of BBQ sauce, the meat was still perfectly moist. Top it off with sautéed mushrooms and onions and some cheese and you get a sandwich worthy of its name.
At this point I had the opportunity to order potatoes (in the form of fries), but I went for a salad instead. While it was kind of scrawny compared to the massive sandwich that shared the plate, it was good. They used real greens instead of that crappy iceberg mix and the ranch dressing was awesome. I assume the ranch was homemade as all of the other sauces were, but I could be wrong.
As an extra treat Katie ordered a Butte Pastie and even let me try a bite (it really was only a bite. Katie is very possessive of her pasties). A pastie is diced meat, potato and onion cooked in a pie-like crust. Basically it's an Irish calzone. It was served with homemade brown gravy that was roughly the consistency of chocolate pudding. My arteries may have found it repulsive, but the taste buds found it quite delicious.
Even without any potatoes, I had an awesome meal that was actually quite cheap. My sandwich and salad, as well as most other sandwiches/burgers on the menu, cost around $8. With as much meat that was on the sandwich, I say it was well worth it. The platters of BBQ meat were a little more expensive (around $13) but you definitely get enough meat to take home for leftovers. The menu also offered enough variety that I want to go back and try another dish… but this time with potatoes.
Katie Says:
Being a Montana girl and seeing a Butte Pastie on the menu, I couldn't resist. Even with all that wonderful BBQ smell permeating the air, the thought of beef, potatoes, carrots, and onions wrapped in a light pastry crust and smothered with brown gravy was what really got my mouth watering. While not quite as good as the original, O'Doherty's version came in a close second. The best part was that they left the gravy smothering up to you. It was served on the side, so you could put on as much or as little as you wanted. Definitely a thumbs up from me, and I'm sure I'll be back to try more of their hearty fare.