Trio of Seattle acts open for Seaweed Jack at Wig Birthday Bash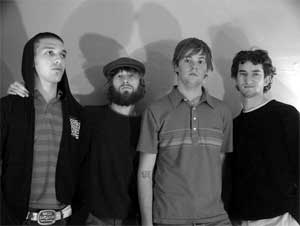 For our latest Pick of the Issue, our opinion of the one show that is truly not to miss over the course of the next couple weeks, we've selected The Wig Fits All Heads Birthday Bash at The Blvd. on Saturday, March 31st. The Wig, a small but formidable force in the Seattle music scene, is turning three years-old and celebrating their foray into Spokane concertland by lining up a trio of great Seattle bands and topping it off with the lovely, local rock of Seaweed Jack.
Shim, it appears, will be opening the show, which is almost criminal. They're a headlining quality act to be sure, but that just shows you how good the music is from start to finish. Stuck somewhere between riff-heavy southern rock, a 90s alternative vibe and something much, much more intelligent, it's definitely worth showing up on time to hear Shim get things started at 8 p.m.
Shim will be followed by fellow Rainy City rockers The Pharmacy, who have been described – quite sufficiently and hilariously – as "a drunk, less intelligent They Might Be Giants." Iceage Cobra, then, bring an unbridled energy of 70s guitar work and shamelessly aggressive yet accessible singles with titles like "Tornado of Knives" (not to mention album titles like Brilliant Ideas from Amazing People.) Basically they write bar anthems for the coveted 16-75 year-old graphic, a throwback to a time that never really existed.
Local mainstays Seaweed Jack will headline the performance with an almost impossibly catchy set of quirky, rockin' goodness. Self-described as "Spokane's go-to indie band," we've praised their sound on several occasions but it's worth noting again that there notoriety on the local scene is well-deserved. On that thought, we wish there was more space to talk about all these acts, but a description is a poor substitution to the real thing anyway. As is the case with any city's music scene, the cream rises to the top and that should be apparent all night long in regards to what Seattle and Spokane have to offer.
The concert gets underway at 8 p.m. on Saturday, March 31st for a $6 cover, open to ages 18+. The Blvd can be found at 333 W. Spokane Falls Blvd. across from the INB Performing Arts Center. To check out the bands beforehand, log onto www.spokanesidekick.com where you'll find links to all the performing artists' websites and myspace pages.