Severe lack of comedy in latest Chris Rock vehicle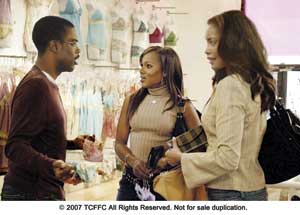 I Think I Love My Wife is a dumb name for a film. However co-writer Louis C.K. is legitimately funny and Chris Rock is a deserving, contemporary comedic icon so, despite the name, the film was all but guaranteed to be good for a few laughs. Except that in the process of writing a story about boredom – one that they apparently thought was worth telling – they forgot to be funny. As a result, I think I don't like this movie. In fact, I'm certain of it.
In a way, I Think I Love My Wife is the "perfect" date flick, as it's got the somewhat sappy love story for chicks and the erection jokes and cleavage shots for guys. Anybody that subscribes rigidly to gender roles in this way will probably enjoy the film as much as can be expected. But anybody hoping for anything in the way of story, plot or just about any other cinematic element you care to name will doubtlessly be disappointed.
But, again, that wouldn't matter if it were funny. However, that's not the case; not by a long shot. There are a couple of nice moments – whether tender or funny – but for the most part I Think I Love My Wife feels like something that should, at best, be playing late at night on basic cable.
Despite Chris Rock casually tossing around the F-Bomb and multiple plot points revolving around lingerie or hard-ons, it's still about as edgy as a Powerpuff Girls episode. Chris Rock is a great comedian because he's accessible while still managing to tow the line a little bit, but here the writing and acting seem as bored and lazy as the characters themselves.
Plus, you know what's going to happen a few seconds into the flick and the funniest scenes were all in the previews anyway – despite the fact that the trailer wasn't all that funny. This might play off better for a married audience that can relate to sexual dry spells and Costco diaper runs, but even then I have a hard time believing that there's anything to empathize with in the stale characters and even staler situations they're put in.
On the bright side, Chris Rock's out-of-marriage temptation, Nikki True, not only sounds like a soft core porn star, but she dresses like one, too. Which seems like a good time to mention that she's just stupidly hot. But if that's what you're after, you're much better off flipping on Cinemax anytime between 11 p.m. and 4 in the morning, because the inane story that makes up I Think I Love My Wife is flimsy at best and wholly forgettable at its core. There's really not much else more worth saying about the movie; it's mildly entertaining, I guess, but nothing that needs to be sought out.
In the end, I think I should have seen a different movie. I think I'll probably about this film's existence in somewhere between 4 to 6 days.