TMNT: Lean, green and on the screen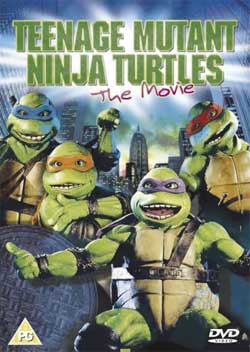 The fact that there were three live action Teenage Mutant Ninja Turtles movies made in the early 90s (with another opening on March 23rd) would suggest that the first movie in the sequence was an unbridled success. And in a way it was; we don't know anyone between the ages of 18 – 26 who hasn't at least seen it. Not to mention that whenever the film comes up in conversation, it's likely to bring fond reminiscences. What it probably won't bring with it, however, is the truth: this movie sucks.
Which isn't a shocker, really. I mean, how can a movie about 6 foot tall, crime fighting, pizza loving turtles not suck? The problem is that meshing everything from childhood together has elevated TMNT into the "underrated" camp for a lot of adults who were once caught up in the turtle craze when, in fact, exactly the opposite is the case.
In the movie, the nostalgia holds up for about a half hour, and then the suck sets in. Combining some of the worst flashback sequences of recent memory with annoying one-liner after annoying one-liner (think the worst of James Bond meets the worst of Saturday morning cartoons), TNMNT is harmless fun, but it's a poor substitution for the beloved cartoon.
The biggest challenge in translating the popular comic book/television show into a live action movie is a visual one. Which proves to be insurmountable, really, as the filmmakers have no choice but to embrace the campiness. That isn't as much of a problem as it might seem, however, as this is just a simple kid's film, after all. But any TMNT junkie watching the movie after they've hit puberty should know going in that they've signed up for nothing but bad action scenes and even worse puppetry. In that respect, TMNT ranges from delightfully laughable to virtually unwatchable. Splinter looks, at best, like a Muppet version of Yoda while Shredder comes across like a vaguely ethnic Darth Vader on steroids, which may have actually been a conscious choice, as he even busts out some Darth Vader lines out of his respirator from hell.
But all this is sounding like more of an actual, critical review than it clearly should be. Teenage Mutant Turtles is supposed to be campy, mild fun. And it succeeds, on some very benign level. Whether you're laughing at it or with it, at least you're laughing. And face it, if you don't at least smile watching cheesy beatdowns delivered at the hands of oversized, mutated turtles with stereotypical teenage tendencies, then you're either completely humorless or you never had a childhood. Plus, I personally prefer watching actors in costumes than the visual effects travesty that the new Turtles flick is guaranteed to be. It's just more fun.
As an added bonus, Elias Koteas is awesome in the role of fellow crime-fighter Casey Jones. And by awesome, of course, I mean he manages not to suck while saying things like "Watch it Broadzilla."
Anyway, I'm not sure where I'm going with all this, so I'm not even going to pretend to make a point. You know what you're going to get heading into the flick and it delivers, as much as can be expected. Meaning it's pretty terrible in a terribly decent way.
Just for fun, we're connecting our Reel Review and Bottom Shelf together in six degrees using absurd logic and vague associations

Chris Rock spent three years as a cast member on Saturday Night Live
A tenure he started in 1990 with fellow comedian Chris Farley Farley died from a cocaine and heroin overdose in 1997, the same year that Nobel Prize winning nun Mother Teresa perished (thus providing the only time you will ever read "Mother Teresa" and "cocaine" in the same sentence)
Whoopi Goldberg played a nun in the unsufferable Sister Act.
She also made a couple of guest appearances on one of the (roughly) 3000 Law & Order spinoffs
As did Sam Rockwell, who has a bit part in Teenage Mutant Ninja Turtles (credited as "head thug")