David's Pizza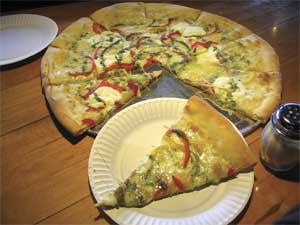 By Katie Shampeny
Davidís Pizza is one of those cool looking restaurants that catch your eye when you drive by and makes you want to stop and check out what they have to offer. Located at 829 E. Boone (on the corner of Hamilton), the first thing that grabs your eye is the great old fire truck with their logo emblazoned on it. That and the fact that the building looks like an old service station lure you in to put their claim of ďSpokaneís Best PizzaĒ to the test.
Having been to Davidís Pizza for their awesome $1 cheese pizza slice special, I thought it time to check out what else they had to offer. From the good selection of specialty pizzas, we decided on the Pesto A LA David pizza. This pie offered me three of my most favorite things in the world: pesto, cheese, and peppers. Made with olive oil and garlic as the base and topped with mozzarella and ricotta cheese along with red and yellow peppers and basil pesto, it had my mouth watering from the moment it hit the table.
It was totally delicious, and a nice break from the ordinary tomato sauce and pepperoni. My only complaints were the random globs of ricotta and the less than abundant pesto. I need way more pesto. You could definitely taste the basil and garlicky goodness, but I like tons of it. Other than those two things, the pizza was great (I ate four giant pieces).
Besides Pizza, Davidís offers several hot sandwiches, calzones, and Stromboli. Oh and did I mention that theyíve brought back their slice of pepperoni and PBR for $2.50 special? Thatís right, pizza and beer for only $2.50. Itís so good you almost need to order two. Go check out Davidís pizza with some buddyís and catch some March Madness on one of their many TVís. And if you are too lazy to get off the couch, Davidís had delivery available to a limited area. For more information or to order call 509-483-7460.
Andy Says
I liked Davidís a lot but the New York style of pizza they serve isnít one of my favorite varieties. While they have really good toppings and an exotic variety of specialty pies, it really comes down to the crust. I want something thick. There was nothing wrong with the pizza but I wish Davidís had an option for a thicker crust. Despite this fact I still find my self returning to Davidís for their awesome specials ($1 cheese slices from 2 to 5 p.m.).