Hip-Hop extravaganza comes to Prago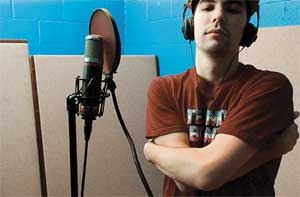 The 4th annual Bad Penmanship show is back with more local (and former local) hip-hop artists that I probably have room to list in this article. Ban Penmanship is an annual hip-hop showcase that takes place on or around the equinox and brings together some of the best Emcees that have ever called Spokane home. This leviathan of a show will take place on Saturday, March 24th at Prago Argentine Café, located on the corner of Riverside and Browne in downtown, Spokane.
According to the show's official MySpace page (www.myspace.com/badpenmanship) all of the performers have one thing in common… they were all available to play that day. But more seriously, the performings artists are a good cross section of emcees that currently call Spokane home, and emcees that got their start in The 'Kan and have moved on to bigger things. Lending their talent to this event are Drew Slum, Tulsi, Cursive Adonis, Freetime Synthetic, QuizTen, Elemental Science Project (ESP), Jaeda, Uncle Scams, Temper T, AmILayze, Tranch 1, and P-Wreck.
It would be unfair to highlight any single act as this is a collaborative event, but we have posted links to every single artist's MySpace page on our website. Simply go to the SiDEKiCK website, www.spokanesidekick.com and enter "Bad Penmanship" in our new search engine. For anyone not near a computer, all you need to know is that this show is hip-hop at its finest and a rare chance to see this genre in The 'Kan.
Doors to the show open at 7 p.m. with music starting shortly thereafter. This show is all-ages but a full bar will be available for those 21 and older. Cover is $7 at the door.