The Mathematicians highlight diverse night of indie rock at The Empyrean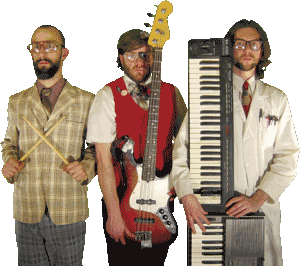 For our newest Pick of the Issue, our opinion of the one show occurring over the run of this issue that's truly not to miss, we've selected The Mathematicians concert on Friday, April 6th at The Empyrean. The combination of a fantastically unique underground touring band with a couple of Spokane standard rock groups in a great place to take in a live show was too much to resist and we're legitimately excited here at Sidekick central about this upcoming concert.
The Mathematicians are an eccentric three piece rock outfit from upstate New York. Like The Shitty Beatles of Wayne's World fame, their name isn't just a clever title; they genuinely seem to love math. Claiming to be influenced by "trinomials, fractions, etc." and adopting the stage names Dewey Decimal, Albert Gorithm IV (hilarious) and Pythagoras, The Mathematicians are like They Might Be Giants with an oversized abacus. The result is a not-so-diverse but irresistible catalogue of songs like "Binary Girl," "Hypotenuse of Love" and our personal favorite (title at least) "Weapons of Math Instruction." The musical elements, on the other hand, are almost equally as eclectic, combining 80s new wave with 21st century electronica, 70s rock, 60s psychedellia and old school hip hop to celebrate their serious love of math.
The Mathematicians will be joined by local groups Tokio Weigh Station and Flee the Century. Tokio Weigh Station is a catchy rock group that deserves to be sought out and, frankly, is worth the price of admission on their own. Simultaneously giving off an indie vibe and a classic, four-piece rock sound, Tokio Weigh Station can bring the rock when they want but they know they don't always have to. They are – simply and intensely – listenable with every note.
Meanwhile Flee the Century finds themselves opening our Pick of the Issue concert for the second consecutive time, once again kicking off a diverse evening with a sound that we've described, quite adequately, as "possibly the loudest and definitely the weirdest band on the local circuit." Though it's kind of lazy of us just to reprint that little blurb and not reevaluate their sound in some way, that really does seem to be the only way to describe it.
This show gets underway in the wonderfully decrepit back room of the Empyrean at about 8 p.m. on Friday, April 6th. Cover is set at $5 for the all ages show. For artist links, venue information, and anything else you would potentially want to know about the show, visit www.spokanesidekick.com.