Assassination Fascination
April 14th will mark the 142nd anniversary of Abraham Lincoln's assassination. To honor the occasion, we're including some background information on Presidential assassinations throughout American history. The four successful assassinations are detailed in the yellow boxes at the bottom of pages 5,7,8 and 10 while a few of the unsuccessful attempts that we found interesting are chronicled in the yellow boxes comprising the back half of the paper. You'll also find a pair of reviews for assassination flicks (Shooter and The Assassination of Richard Nixon) on page 16. Enjoy.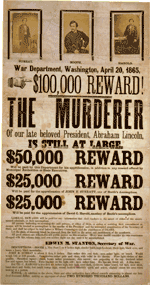 The Assassination of Abraham Lincoln
Assassin: John Wilkes Booth
Target: Abraham Lincoln
Weapon: .44 Derringer Pistol
Date: April 14, 1865
Motive: Originally Booth planned on kidnapping Lincoln and holding him in exchange for Confederate prisoners of war, but as Booth became more and more unstable, he decided that killing off Lincoln, Vice President Andrew Johnson and Secretary of State William Seward would send the Union into a state of chaos that would allow the Confederacy to mount a resurgence (despite the fact that they were getting their ass kicked every which way to Sunday and everybody besides Booth thought the situation pretty hopeless). While his cohorts failed in rubbing out Johnson or Seward – Johnson's would-be assassin chickened out at the last minute while Seward survived repeated stabbings in his D.C. home – Booth shot Lincoln in the back of the head while the President was watching a production of Our American Cousin at the infamous Ford's Theatre. Despite breaking his leg after jumping from the Presidential Box onto the stage, Booth managed to escape, repair his leg and head south. He was apprehended in a tobacco barn near Bowling Green, Virginia 12 days later and fatally shot in the neck by an arresting soldier.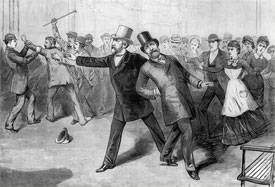 The Assassination of James Garfield
Assassin: Charles J. Guiteau
Target: James A. Garfield
Weapon: .44 caliber, Navy issued revolver
Date: July 2, 1881... sort of
Motive: Guiteau, it seems, wasn't as crazy as the other assassins and would-be assassins on this list. Turns out he was just a dick. Chuck had petitioned Garfield on several occasions for the post of Ambassador to France, a job that he apparently wanted very, very badly. So, on July 2, 1881 – less than four months after taking office – Garfield was shot twice in the back by a positively giddy Guiteau, who was promptly hanged for his actions. The wounded president actually survived for a couple of months, and probably would have made a full recovery had his doctors not royally sucked. Several doctors inserted their unsterilized fingers in the bullet wound in an unsuccessful attempt to locate the dislodged bullet, and one of them punctured Garfield's liver in the process. As a result, James A. Garfield died after six months in office from blood poisoning, bronchial pneumonia and, finally, a ruptured splenic artery aneurism and massive heart attack. Hopefully Mr. Garfield can take solace in the fact that his tenure as President, though brief, was at least longer than that of William Henry Harrison, who served a whole month after contracting pneumonia while taking his Presidential Oath and giving the longest inaugural address in American history. Serves him right for making those people stand in the cold and listen to his drivel for over two hours. Wanker.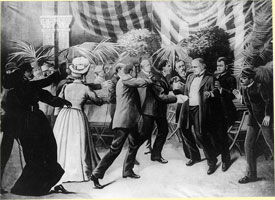 The Assassination of William McKinley
Assassin: Leon Czolgosz
Target: William McKinley
Weapon: Iver Johnson .32 caliber revolver
Motive: On July 29, 1900, avowed anarchist Gaetano Bresci assassinated King Umberto I of Italy, sending shockwaves through the anarchist movement worldwide. Its effect was particularly strong on Leon Czolgosz, the Detroit born son of Russian/Polish immigrants. Czolgosz admired Bresci and concluded that the injustices suffered by the common people of the U.S. were the result of the government itself and Czolgosz wanted to do his part to topple it. So he fired two shots at McKinley at close enough range as to leave powder burns on the president's vest. Though McKinley persisted for a couple weeks, he eventually succumbed to gangrene and died from his wounds. As a side note, you have to admire early 20th century justice as Czolgosz was beaten within an inch of his life on the spot, only to live for the trial– which lasted a total of 8 hours from jury selection through verdict. He was electrocuted shortly thereafter.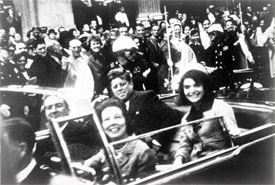 The Assassination of John F. Kennedy
Assassin: Presumably Lee Harvey Oswald, although your crazy uncle is pretty sure aliens were involved in some way
Target: John F. Kennedy
Weapon: Mannlicher Carcano 6.5 mm Italian rifle
Motive: Perhaps the most infamous event of the 20th century, the assassination is universally known but still understood with only the vaguest notions of what really happened. Certainly Oswald was involved in some way, firing shots from the sixth story of the Texas School Book Depository Building, but whether there were other shooters or conspirators is the source of much speculation to this day. Some of the most popular theories postulate that the CIA executed Kennedy for his lax stance on Cuban exile, that Lyndon Johnson was behind the murder so that he could assume the Presidency, that Cuban communists and/or Soviet Bloc communists wanted to make a Cold War statement, or any of a number of other postulates implicating everybody from J. Edgar Hoover to George Herbert Walker Bush.
The Attempted Assassination of General Andrew Jackson
Wannabe Assassin: Richard Lawrence
Target: Andrew Jackson
Weapon: .40 Derringer Pistols (pair)
Motive: Lawrence was not only the first known person to attempt assassination on an American President; he was undeniably the craziest as well. By 1835 Lawrence, an unemployed house painter, had convinced himself that he was actually Richard III, King of England, and a large sum of money was being held from him by the U.S. government in general and Andrew Jackson in particular. He also blamed Jackson for killing his father in 1832 despite the fact that his dad actually died in 1823 and had never been to the United States. So on January 30, 1835, Lawrence fired two different pistols at Andrew Jackson at virtually point blank range, only to have both weapons misfire. Hilariously, Jackson then proceeded to beat the shit out of Lawrence with his cane. The message: don't fuck with Andrew Jackson. Nicknamed "Old Hickory" due to his smoky aftertaste, our 7th president was a notorious hard case who played a significant role in the American victory of the War of 1812. In the Battle of New Orleans, for example, Jackson's militiamen were outnumbered by the British 10,000 to 4,000, yet the Americans achieved a sweeping victory, with the British retreating after suffering over 2,000 casualties, compared to only 13 (!) of Jackson's men. And that, friends, is why Andrew Jackson is on the 20-dollar bill.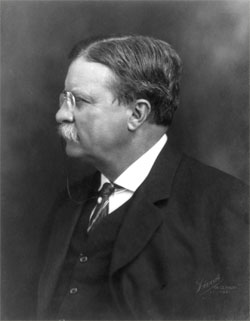 The Attempted Assassination of Theodore "Teddy" Roosevelt
Wannabe Assassin: John Schrank
Target: Theodore Roosevelt
Weapon: .38 caliber pistol
Motive: Schrank claims to have experienced a dream where the assassinated William McKinley (see page 8) singled out Roosevelt as his assassin and demanded revenge. Thought of as a mostly harmless recluse, the only real beef Schrank is known to have with Teddy was a noted bias against sitting presidents seeking their third term in office. For whatever reasons he had, Schrank fired his .38 at an unsuspecting Roosevelt as the President was seeking a second reelection. However Roosevelt's lengthy speech and eyeglass case that he kept in his breast pocket slowed the bullet to a non-fatal level. That said, the bullet was still lodged in his person and, rather than heading to a hospital to have the bullet surgically removed, Teddy gave the speech anyway. His first words to the crowd were "I don't know whether you fully understand that I have just been shot; but it takes more than that to kill a Bull Moose." To further clarify the statement we made in the Andrew Jackson box on the previous page, don't fuck with any president who was once a military colonel.
The Attempted Assassination of John F. Kennedy
Wannabe Assassin: Richard Paul Pavlick
Target: John F. Kennedy
Weapon: a 1950 Buick filled with dynamite
Motive: Three years before Oswald (or whoever) took a chunk out of Kennedy's skull, Richard Paul Pavlick tried to kill JFK by crashing his dynamite-laden car into the President's vehicle. Only Pavlick chickened out when he saw Jacqueline entering the car with her two kids, so he followed JFK around Palm Beach for awhile awaiting an opportunity when he could take him out without the added strain on his conscience of murdering the man's wife and children. The secret service got word of the plot, though, and arrested Dick before he saw his plan through. What's truly incredible about the situation is that Pavlick was 73 years old at the time. We say that if you're over 70 and not pooping into a bag, you're in pretty good shape, yet Richard had ambitions of killing the President with a Buick. This is just further proof that old people need to be locked up once they exceed the age of 65.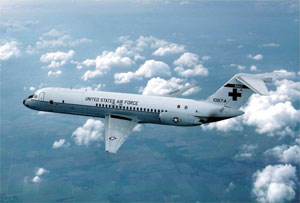 The Attempted Assassination of Richard Millhouse Nixon
Wannabe Assassin: Samuel Bicke
Target: Richard Millhouse Nixon
Weapon: DC-9 airplane, which he captured with a .22 and a homemade bomb
Motive: Possibly the lamest assassination attempt in history (American or otherwise), Samuel Bicke planned to kill Richard Nixon by crashing a plane into the White House. (See page 16 for a review of the slightly fictionalized 2002 film about Bicke's life.) While that's a stupid plan to begin with – the odds of killing your target by crashing into a house that size seem pretty slim – his methods for carrying it out where even dumber. After storming aboard the closest airliner he could find, Bicke got all butt-hurt when he was told that he couldn't take off with the wheel blocks still in place, so he got scared and shot the pilot and copilot before turning the gun on himself. The plane didn't move an inch and Nixon was probably more concerned about the day's NBA scores than the fact that he had a near brush with death, only by "near" we mean "not even close."