Civilized Animal plays Blvd before hitting the studio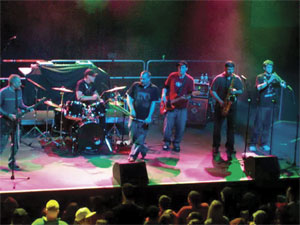 A full ten years after Spokane's infamous ska/rock band Civilized Animal got their beginning from the ashes of Distorted Silence, the band has returned from an extended hiatus that saw longer and longer gaps between shows until there were virtually none. With a new, full line-up of animals and a desire to once again rock the shit out of Spokane, Civilized Animal will perform on Friday, April 6th at the Blvd House of Music with help from The Let Up (formerly known as Intermission), The Auralust, and Dan Weber.
According to Civilized Animal guitar player Kenny Johnson, it was in the last year when the band members starting taking different directions with their individual lives that the band essentially broke apart.
"Since last July we have been adding new members to replace those we lost," explains Johnson. "It wasn't really until last month that we had filled out the lineup completely."
Unfortunately this new batch of talent and energy won't necessarily mean a flood of Civilized Animal shows in the area. Instead, the band plans to hit the studio and record an album, the first since their 2004 release titled About Time.
"The goal is to release the new CD sometime this year," says Johnson.
Regardless of the lineup, you can expect one thing from a Civilized Animal show… utter chaos. The first concert I ever went to (back when I was in high school) was a Civilized Animal show at River Front Park. And even eight years later the band's hi-energy and raw talent is still fresh in my mind. The first CD I bought after I moved back to Spokane was "About Time" and it has maintained a prominent position in my CD queue to this day. With Civilized Animal, both live and on record, I can rely on one thing – my mood will instantly become happier and I get the uncontrollable desire to dance (jump up and down) like a drunken idiot. I think it has something to do with the horns.
Civilized Animal will perform on Friday, April 6th at 9p.m. at the Blvd House of Music in downtown, Spokane. The Blvd is located at 333 W. Spokane Falls Blvd across from the INB Performing Arts Center. This show is for those 21 and older and costs $5 at the door. For those who are underage and wish to check out Civilized Animal head to 4000 Holes (1610 N. Monroe) and purchase a copy of About Time as well as some of the band's older work. Or, if you have a computer, look online at www.spokanesidekick.com for some sample track from Civilized Animal.