Urban rap duo descends upon Big Easy Concert House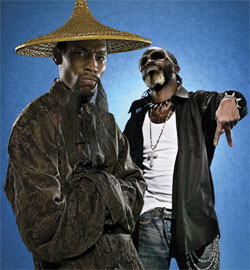 The Ying Yang Twins, a rap duo from Atlanta who deliver a hyper-urban crunk sound to their increasing fan base, will be making their way to the Inland Northwest for a recently added engagement at the Big Easy Concert House on Friday, April 6th.
Though not genealogically related, the Ying Yang Twins play up their Taoist namesake, as Kaine often wears an oriental hat like the one pictured above while D-Roc sports what you could aptly describe as a Fu Manchu on steroids. Lyrically, however, they're pretty devoid of philosophical influences unless you feel (as they seem to) that the booty has meditative, transfixing powers, as can be witnessed via two singles that are currently playing on their Myspace page, "Jigglin" and "Ms. New Booty" (www.myspace.com/yingyangtwins).
I don't know what else to say about the group, since I definitely don't understand their appeal. Then again, I doubt the Ying Yang Twins would be all that bummed about a white suburban kid who doesn't really dig their music. The fact remains that they're a popular outfit bringing a unique sound to the Inland Northwest and that make's it worth letting people know about.
This concert will take place at The Big Easy, 919 W. Sprague in downtown Spokane, at 8 p.m. Tickets are on sale now for $22.50 each, available through www.ticketswest.com, by calling 1-800-325-SEAT, or by visiting any of the TicketsWest outlets around town (see calendar spread). As with the vast majority of Big Easy shows, this is an all ages concert. For more information, visit www.spokanesidekick.com.