Lacuna Coil headlines metal show at The Blvd.
Lacuna Coil headlines metal show at The Blvd.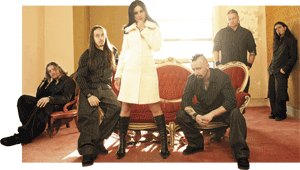 We're pretty unabashed rock 'n roll guys here at the Sidekick, so most of our Picks of the Issue have deviated little from singer/songwriters or straight up rock acts. Yet for this Picks of the Issue, our opinion of the best show coming up in or around Spokane over the next couple of weeks, we're selecting a metal lineup that's deserving of the distinction. On Wednesday, May 30th, Italian goth outfit Lacuna Coil is headlining a night of music at The Blvd. that will also include the epic, dark rock of Dutch band Within Temptation, the driving metal of Savannah, Georgia's Kylesah and the danceable, industrial vibe of Stolen Babies. All in all, a pretty bitchin' lineup in a great place to take in a metal show, especially one of this caliber. The night just begs for you to get drunk and fall down, earning a couple of battle wounds and undoubtedly having a hell of a time in the process.
Lacuna Coil combines hyper-fuzzy distortion with a dual male/female vocal arrangement and surprisingly beautiful piano pieces for an aggressive and distinct alt-metal sound. Though they're Italian, the majority of their lyrics are English and they've recently started to capture the attention of American metalheads after an Ozzfest stint in 2003-04, after having been a major player in the heavy European scene for over a decade.
A lot of metal bands claim to bring a collision of melody and metal to the table, but that's a very difficult thing to pull off, and Lacuna Coil does it as well as any band alive. It's also worth noting that Revolver and Rolling Stone magazines have confirmed what's been suspected for awhile, Lacuna Coil's lead singer Cristina Scabbia is one of the hottest chicks in the scene.
Within Temptation really deserves almost equal exposure, having sold over a million albums and creating a haunting, string-filled, guitar-fuelled sound that stays with you. This is definitely not a headlining show with opening filler acts that should be missed. If you're interested in our opinion, Kylesah is a bit heavy for our tastes, but the other three groups bring a lot of musical talent and enough diversity within the metal genre to make for an appealing, adrenaline-ridden concert.
Tickets for the concert run $19 in advance, or $22 at the door for this all ages show, available ahead of time through www.ticketswest.com, by phone at 1-800-325-SEAT, or by visiting any of your local TicketsWest vendors (see page 12). The Blvd. House of Music can be found at 333 W. Spokane Falls Blvd. in downtown Spokane. For more information, log onto www.spokanesidekick.com.