Wikipedia
For this issue, we're celebrating the greatest resource in the history of the world, the indispensable website known as Wikipedia. Some people cite that the user updated entries are unreliable but it's our opinion that if you're intelligent about your research and double-check seemingly dubious claims that are uncited, you'll find Wikipedia a routinely reliable, highly engaging and incredibly vast pool of knowledge. Props to whoever edits that thing and keeps things running smoothly, as they do a commendable job keeping the content factual and, for that matter, highly readable. At any rate, you can find various tidbits of information surrounding Wikipedia on the bottom of several pages, as well as an introduction to "The Wikipedia Corollary" in a special, one-off feature on page 21. Enjoy.
The beauty and bane of Wikipedia is that
anyone can edit it... even Sloth.
"Hey you guys"
An introduction to Wikipedia
For anyone not familiar with it, Wikipedia is an interactive online encyclopedia that can be edited and expanded by anyone with access to the internet. Started in 2001, Wikipedia is now one of the 15 most visited websites in the world, with headquarters in Tampa, Florida and additional servers overseas in Seoul and Amsterdam. Co-founder Jimmy Wales describes the project of Wikipedia simply but ambitiously as "an effort to create and distribute a free encyclopedia of the highest possible quality to every single person on the planet in their own language." Considering that the website has only been around for a little over six years, they're well on their way, currently boasting 7.2 million articles in 251 languages, thus making it far and away the most comprehensive encyclopedia the world has ever seen, and for our money the greatest available resource in circulation.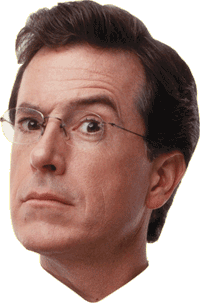 Wikiality!
That's my word bitches
Wikiality
Last July, on The Colbert Show's popular segment, The Word, Stephen Colbert introduced the world to the term "Wikiality," which he described as "bringing democracy to knowledge." The idea is that, since "any user can change any entry, if enough other users agree with them, it becomes true." He goes on to add, "I'm no fan of reality, and I'm no fan of encyclopedias. I've said it before. Who is Britannica to tell me that George Washington had slaves? If I want to say he didn't, that's my right. And now, thanks to Wikipedia, it's also a fact ... We should apply these principles to all information. All we need to do is convince a majority of people that some factoid is true," he explained, leading into a digression about the African elephant population, which ultimately resulted in several hacked Wikipedia entries deliberately misinforming readers about the number of elephants tripling on the African continent over the last six month, a "factoid" that also happens to be patently untrue. While the segment was a downright hilarious parody of both Wikipedia's open source system and Stephen Colbert's disdain for facts and truth, it still has some interesting implications in the real world. Obviously one of – or perhaps the – most important philosophical questions is the idea of what is real, which is usually described as either what exists or, if you subscribe to a wikiality-type notion of consensus reality, what we generally agree seems to exist (Like The Allegory of the Cave and all that other stuff you slept through in college). It's also worth noting that Wikiality has caught on, to a certain extent, in the current lexicon. Global Language Monitor, which tracks language trends, named Colbert-coined phrases "truthiness" and "wikiality" the top TV buzzwords for 2006.
Mary Kay Letourneau is the
only teacher who is O.K. with
the Wikirace Game. She also
has sex with 6th graders so
her judgment is a little flawed.
The Wikipedia Challenge (also called Wikirace or Wiki-Link Game)
Made popular in on-campus computer labs that often had filters on gaming websites, The Wikipedia Challenge is a game where competitors race from one designated start page to a predetermined finish article without ever leaving the Wikipedia network (i.e. clicking on in-site hyperlinks until reaching their destination). The winner can either be determined as the first person to reach the target page, or the one to do so using the fewest number of links. At the end of the game, the winner can prove his or her path by clicking back through all the visited pages, thereby demonstrating that they never entered a new search or left the Wikipedia network. While more fun than it probably should be no matter where you are, the game is particularly useful in school settings, where administrators might be a bit suspicious of your frantic clicking, but can't prove that you're not doing homework since you're operating within a largely educational website. (Stick it to the man!) Depending on the level of difficulty one wants to achieve – and how long you want the game to last – variations of the Wikipedia Challenge include a prohibition on going backwards to a previously viewed page, always starting on the Wikipedia home page, enabling or disabling "find" tools, and forbidding the use of year pages, which can significantly speed up the pace of the game if used properly.
Wikipedia Drinking Game
Inspired by The Wikipedia Challenge, we at Sidekick have invented a similar offshoot that combines the useless knowledge of the internet with the glorious chemical alterations of alcohol. Essentially the same as the game described in the previous box (page 10), the only difference is that the participants must pause during the following circumstances to take the allotted number of drinks:
Anytime you come across the name of a city or town, you must take one drink
Anytime a participant sees the bracketed words [citation needed], a he or she must scream "you lying bastards" at the computer screen as loud as would be socially acceptable given the circumstances. Then take a drink.
Anytime you come across the name of an American President or professional athlete, you must click on the link and take a drink for every time you see the word "controversy"
Otherwise, feel free and invent similar rules, depending on how hammered you want to get. Who said learning can't be fun?
Wikipedia Spin-offs and Parodies
Due to the overwhelming success of Wikipedia, a number of user-editable spinoffs have blossomed on the web. Some are sanctioned by the Wikimedia Foundation – such as Wikiquote, an encyclopedia of quotations, and Wiktionary, a multi-language dictionary and thesaurus. However the vast majority of offshoots are either parodies or individually sanctioned sites with a very specific focus. There are way too many to catalogue, but here are a few of the most popular, to give you an idea of what's out there:
• Uncyclopedia.org - A Wikipedia parody that describes itself as "the content-free encyclopedia that anyone can edit," an often hilarious collection of satirical articles with almost nothing in the way of a basis in reality. Like The Onion, only without that burdening shred of dignity.
• Lostpedia.com – An insanely comprehensive Wikipedia-modeled encyclopedia dedicated to the television show Lost, the show's characters, various theories, back stories, etc. to the tune of 3,000 articles in 8 languages.
• Wookiepedia (starwars.wikia.com) – A Wikipedia model devoted entirely to the Star Wars galaxy, the cleverly named website Wookiepedia is also full of highly informative tidbits. For example, did you know that " docking bay 789012634 was located at level 3301 in Byblos starport tower 214?" The administrators claim to make their articles available in 12 languages, yet fail to acknowledge that that's completely irrelevant considering they're speaking the universal language of dork.
• Conservapedia.org – Our personal favorite, Conservapedia is essentially the same thing as Wikipedia, only they counter what they perceive to be a liberal bias housed within the articles on the original website (apparently the truth has a notorious leftist slant). The website is complete with updates on the terrorism front, a Bible Quote of the Day, and generally registers off-the-charts on the unintentional comedy scale.
Obscure tidbits of information:
The best way to get a feel for how useful Wikipedia can be is to introduce you to the virtually limitless pool of knowledge that one haphazardly encounters depending on what links he or she follows. Here, then, are a few of the many things we learned (and will probably forget within a week) while getting lost in the Wikipedia Corollary, doing research for these info boxes:
• A neologism is "a word, term, or phrase which has been recently created ("coined") — often to apply to new concepts, to synthesize pre-existing concepts, or to make older terminology sound more contemporary."
• Weird Al Yankovic's first top 10 hit didn't occur until his 2006 song, "White and Nerdy," which peaked at #1 in both iTunes sales and VH1's Top 20 Countdown
• Tampa (as in Tampa Bay, Florida) is believed to mean "sticks of fire" in the language of the Calusa Native American tribe
• Presumably the largest collection of books and most ambitious editorial enterprise in history belongs to the 18th century Chinese Emperor Qianlong, who oversaw a 4.7 million page anthology of essays, poems and encyclopedic entries