Hed PE headlines Scratch n' Sniff Show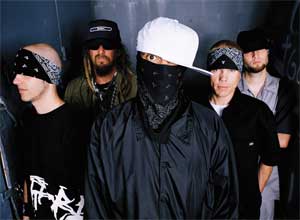 Scratch n' sniff this. Aggressive punk rock is in the air and the So Cal band (HED) p.e. is scheduled to hit up Spokompton. Touring with such act as Metallica, Slayer, Korn, The Defontes, Linkin Park, P.O.D., and Slipknot, these guys are no longer the side show.
With a new album being released on June 26, (HED) p.e. will play The Big Easy on May 30th.
Hailing from Orange County, Calif., (HED) p.e. can hold their own. The metal/rap/hard core band will appear with Authority Zero, Mower, The Villebillies and Danny Diablo.
When playing shows in the past in Spokane, (HED) p.e. has been known to cause spontaneous crowd surfing out breaks, with eyewitnesses recalling it as pretty intense.
They're returning louder and stronger than ever.
They claim, "the true pimps of hard core are back, and are ready to piss off the entire country from sea to shining sea."
Combining one of a kind punk and G-funk sound, (HED) p.e. draws from their Orange County influences. They fuse area sounds of the punk revival scene with G-funk-influenced hip-hop, to create "G-punk."
Opening for (HED) p.e., Authority Zero is a punk rock band from Mesa, Arizona. They've shared the stage with Everclear and Sum 41 and are touring to support their latest album, 12:34.
Mower, a band out of San Diego, Calif., has established themselves as an intense live act and has been on tour with (HED) p.e..
With their raunchy lyrics and out of control sound (HED) p.e will provide something to Spokane that few live acts can. So don't miss the Scratch n' Sniff tour featuring (HED) p.e., Authority Zero, Mower, The Villebillies and Danny Diablo at The Big Easy on May 30.
Tickets are on sale now through www.ticketswest.com, by calling 1-800-325-SEAT, or by visiting any of the TIcketsWest outlets on page 12. As always, check out up-to-date information on this event and more at www.spokanesidekick.com.