Six Foot Swing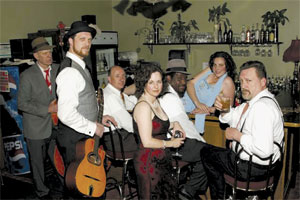 If it's true what they say, "It don't mean a thing if it ain't got that swing," then by all accounts, 6' Swing really means something. The seven piece Spokane based swing band is all about bringing back the swinging sound of the 20s.
6' Swing, pronounced "six foot swing," plays classic tunes reminiscent of a much different time in American music. They just finished recording their first CD and plan to release it at their upcoming show at Centerstage on May 24, where they will be opening for The Stolen Sweets. The six song demo highlights the group's ability to produce a genuine vintage sound half a century passed its peak.
Heather O'Brien delivers the lead vocals in a smooth jazzy voice, while the piano and horn section blend the music into the audio equivalent of a velvety piece of milk chocolate. 6' Swing is smooth and delicious. The group's founder and rhythm guitar player, Garrin Hertel, compensates for the lack of a drummer by strumming with the percussionist Jamie "Papa Scrubs" Flanery, who plays the washboard.
Hertel's love of jazz and swing is what brought this band together, and his love of the music started at a young age. On a family trip to New Orleans, Hertel got lost in the infamous French Quarter, and was inspired by a jazz musician.
"I wandered off and sat on a street corner . . . there was a piano player just killin' the keys, and I remember being really excited by that," he said.
The New Orleans influence on 6' Swing is apparent. They have a rendition of "Basin Street Blues" on their CD, which is a song that takes place in New Orleans. Hertel also organizes an annual jazz festival called "Think Swing" which gave jazz musicians from New Orleans the opportunity to come to Spokane to play since all their venues had been destroyed.
6' Swing, whose members are all at least six feet tall, has been pleasantly surprised by their success in the local music scene. They have found that although the music is old, it certainly isn't out. Their audiences range from middle aged to young groups of swingers who get dressed up and really tear up the dance floor. Sometimes the dancing is so acrobatic that the band finds themselves distracted by the spectacle.
"We'd like to be able to say that someone fell in love dancing to our music," said Hertel.
Other future hopes for the band include travel, thought preferably not an intense tour schedule, but weekend trips to Portland, as well as eventually playing in the city that started it all; New Orleans.
6' Swing is a homegrown band that plays the charming and coy music of times past, while applying it to today's world. The energy is high and so is the fun. Whether they are playing a slow soft tune like "Night and Day," or their faster show stopper, "Georgia Grind," 6' Swing is authentic and original. Taking old classics and forgotten tunes and making the audience dance, washboard and all. Hertel maintains that even without a drummer, 6' Swing is every inch a true swing band.
"It's not so much the notes, as it is how you play them."
Six Foot Swing will be playing at Executive Women International, a springtime social and auction, on Friday, May 18th. There are 250 tickets for sale at $35 a piece, available by calling Lori at 458-3200. Then, on May 24th, they'll be opening for the Portland swingin' jazz band Stolen Sweets at Centerstage, a show that will act as a CD release party of sorts for 6' Swing, as they'll be unveiling their recently finished 6 song demo, available at the show for $6 a piece.
Looking ahead, they've got a bunch of shows lined up in June, with a Caterina performance on the 2nd, a couple return appearances at CenterStage on the 8th and 10th, and additional concerts at The Viking, The Ticket and Peacock Lounge towards the end of the month and into July. For more information, or to hear samples of the band, visit www.spokanesidekick.com.