An Open Letter to the Spokesman Review's 'Our Voice' Delivery Drivers from SiDEKiCK Production Manager Andy Rowse
An Open Letter to the Spokesman Review's 'Our Voice' Delivery Drivers from SiDEKiCK Production Manager Andy Rowse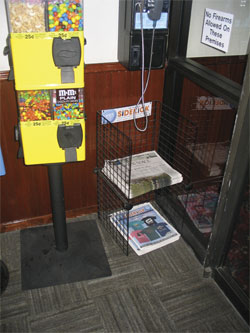 Dear Spokesman Delivery Drivers,
I am very pleased that you enjoy the SiDEKiCK's homegrown newspaper rack system. We are very proud of our ingenuity and thriftiness when it comes to supplying racks to businesses in the community. After all, we are not a multi-million dollar company with nearly unlimited resources and power – if that were the case we would simply buy pre-made racks from a manufacturer instead of making our own.
Nevertheless, please keep your newspapers out of the SiDEKiCK's racks! It is one thing when a Spokesman stack accidently gets put on-top of our papers by a business owner that doesn't know any better, but it really chaps my ass when I find a stack of SiDEKiCK's on the floor with 'Our Voice' place in the SiDEKiCK's rightful position (please see picture to the left taken at Ringo's Casino). Perhaps you cannot read the bright orange sign affixed to each rack? Perhaps you just don't give a shit and think that Spokane belongs to you? Either way, your still being a wanker. Please stop it. We may be small and insignificant but you should at least treat us with a little respect.
Although, if you are poaching our racks because the Spokesman is in financial strains, we would be very happy to instruct you in the technique used to create our cost effect rack system. Let us know and we will be happy to train you.
Sincerely,
A.W. Rowse
The Spokane SiDEKICK