Music Lesson #2 - Playing the Blues
I learned to play guitar with the blues. Itís my favorite genre of music. Of course, I canít really call myself a true Ďbluesmaní because of my severe lack of sadness in life. I mean, the only heartache Iíve suffered through is the loss of loved ones and lovers. Then again, thatís all you need to play the blues (itís just that if you lived though the Great Depression or the Black Plague you have more street-cred for enduring something truly horrible). Hereís a short lesson on the blues for beginners or unfamiliar guitarists.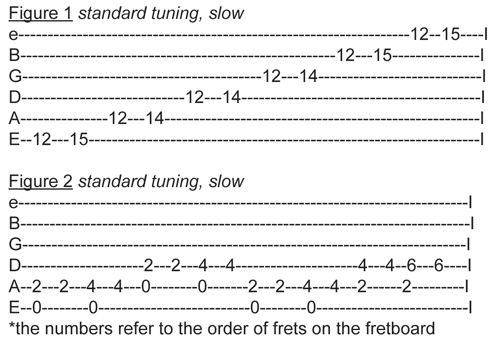 Figure 1 is the pentatonic scale, in E. The great thing about the pentatonic scale (it took me weeks to figure this out) is that you can start anywhere on the fret and follow the same pattern as Figure 1. A pentatonic in ĎAí would start on the 5th fret of the top E string. A pentatonic in ĎGí would start on the 3rd fret, and so on and so on. Therefore, you can play a solo over any song as long as you know the pentatonic and the key of the tune.
Figure 2 is a standard blues riff for rhythm guitar. Put together, these two exercises hold the most commonly used notes in the entire blues genre. The blues are my favorite because they can be super easy or super hard at the same time. Played rapidly, one can get that awesome SRV or Hendrix sound with slick, face melting solos. Played slowly you can achieve a melancholy, sexy (purely bluesy) sound like Clapton, B.B. King, and Mayer try to play. Whatever you want to make of it. My advice to you, if youíre using this as a learning tool, is to become a master of the pentatonic scale by practicing A LOT! When I was in high school I would come home from school at 2:15, lock myself in a room with a guitar, and not come out till 8 p.m. I think it was a contributing factor to me not getting laid. However, practice makes perfect and no one can play the blues overnight. To this day, I try to get at least an hour or two of practice each day (probably why Iím still not getting laid!) Pat McHenry is the lead singer and principal songwriter of local band Smile Line Spark. Check them out online at www.myspace.com/smilelinespark.