28 Weeks Later a worthy, gory sequel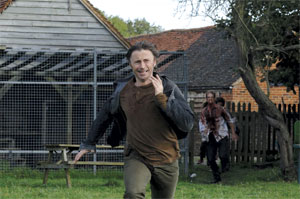 Run Carlyle, Run!
You could probably file the 2001 release 28 Days Later in any of a number of genres or sub-genres: thriller, action, horror, science fiction, drama, or anything with the word ďapocalypticĒ in it would seem fairly logical to me. Thatís not really the case with the sequel, however; 28 Weeks Later is pretty much a straight up horror film. Brutal, gruesome and undeniably intense, in the end itís a surprisingly exciting and entertaining little movie.
Thatís not to insinuate that 28 Weeks Later is better than the original, though. Thatís not the case at all (see below). But as a sort-of edge-of-your-seat horror flick where everyoneís running around in full-blown survival mode, it works pretty well. You could dig a little deeper and find something at stake about cowardice paying a heavy price Ė or other vaguely humanitarian concerns that are somewhat contrived and somewhat interesting Ė but thereís rarely enough time to reflect on little more than, ďRun you fools,Ē or ďJesus, did that dude just take a bite out of her jugular?Ē
Itís worth noting that you probably want to check out the first film before going to the sequel. I suppose thatís a pretty obvious thing to say, but itís particularly true in this case. Since the characters and storyline are completely new, 28 Weeks Later is a self-contained movie, but if you miss out on how all of it started I imagine it would be difficult to really get the full effect.
The aforementioned subtext that runs quietly rampant throughout the film is fairly interesting, but not nearly as pronounced or enticing as the original. In the end, it makes 28 Weeks Later less self-reflexive and therefore probably a little easier to get immediately lost in, but it also makes it much less interesting. I realize itís probably annoying to read a review about a movie that keeps referencing another, but itís nearly impossible to separate the two. The schizophrenic feel of handheld camera movements is amped-up to an almost nauseating level, yet the look and feel is essentially the same. Even the soundtrack is, for all practical purposes, identical. Everything has changed, yet itís still somehow exactly the same, an admittedly stupid claim that probably makes perfect sense if youíve seen both of the flicks.
Thatís really all there is to say about 28 Weeks Later. If you enjoyed the predecessor, but thought it skimped on the explosions and decapitations, then this is pretty much what youíve been waiting for. Hollywood has gone way too far in turning out safe little sequels but, as far as follow-ups go, this is sure to be one of the best of the summer.