A Look at Spokane Recording Studios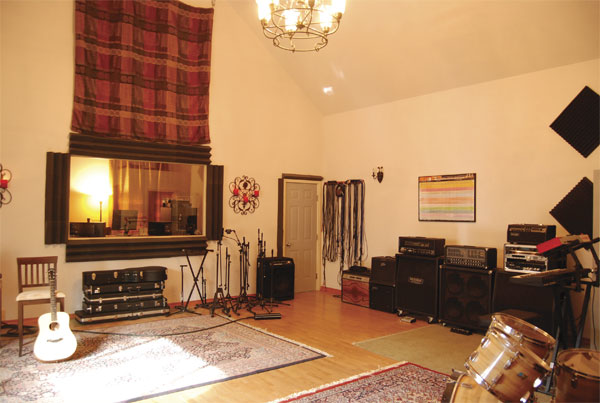 Fusion Studios
(509) 389-4031 | www.fusionstudio.biz
This nearly brand-new studio is the brainchild of musician Mark Klock and his wife Angel. Located about an hour and a half north of Spokane (just north of Chewelah), the studio is far removed from the noise and frantic distractions of the city. According to Klock, "When we first started building the studio two years ago we had the option of moving to Spokane but instead we chose to set up shop way out here and make it a sort of getaway for musicians. There is nothing up here to distract you – you have to concentrate on your music."
History
Klock, a graduate of the UCLA audio engineering program, officially started Fusion Studios in 2003 for his own private use in recording his own musical projects. A lifelong musician, he was frustrated with expensive studios that didn't deliver the quality he desired. Fusion Studios was his solution and he eventually opened it up to the public.
Two years ago Klock moved to Washington to begin the yearlong process of constructing a brand new studio next to his ranch. The custom building was designed by Klock and was created to meet his needs as both an engineer and a musician.
"The goal was to build a creative atmosphere with a relaxing vibe that takes your mind off the world and focuses it on the music," explains Klock. "From everything I've heard from bands that come to the studio, we have succeeded in that goal. And they all love it so much they've all come back for their next project."
The Building
Fusion Studios is a building separate from the living spaces and features a control suite, a massive live room, and one isolation booth. The live room features 20-foot high ceilings and delivers an enormous sound. Under the hood of the studio is a 32 track British Soundtracs analog-mixing board modified to provide more headroom and a punchier sound.
"The analog board provides a more warm, natural sound that can't be achieved through digital means," explain Klock. "Metal guitarists really love the punchiness we are able to create with this board."
The Equipment
Recordings done at Fusion Studio may be mixed through an analog mixer but they are recorded on the studio's Mackie hard disc recorder system with industry leading Apogee digital/analog converters. The studio also features two full racks of pre-amps, more off-board gear than a non-engineer can understand, nine custom modified mics, two studio drums sets, Mesa Boogie Stilletto tube heads, and more (a full list is available online at www.fusionstudio.biz).
When Klock relocated to Spokane he had a goal to build a studio that was as much a creative sanctuary as it is place to record. When band's come into the studio they stay for a few days in the Klock's guest rooms until the project is done. The distance from the city serves at a buffer against anything that might be a distraction during the recording process.
"Coming to record at Fusion Studio is kind of like going on vacation," jokes Klock.
Fusion Studios can be reach by phone at (509) 389-4031 or online at www.fusionstudio.biz.