O.A.R. headlines Big Easy show
O.A.R. headlines Big Easy show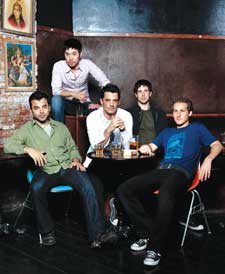 For our most recent Pick of the Issue, our opinion about the most exciting live entertainment event in Spokane coming up over the next few weeks, we're selecting roots rock/jam band O.A.R.'s Tuesday, June 19th concert at the Big Easy Concert House, with Bedouin Soundclash offering support.
O.A.R. (which stands for Of a Revolution, meaning fans get really self-righteous and annoying if you call them "oar" instead of spelling it out) is an incredibly popular American rock outfit that's celebrated an enormous amount of success lately on the strength of popular radio singles, most notably 1997's "That Was a Crazy Game of Poker," as well as a large word-of-mouth following based on their reputation of being a stellar live band. Recently they sold out Madison Square Garden (for the second time) and a double live album and joint DVD filmed and recorded that night, appropriately titled Live from Madison Square Garden, are both slated for a June 5th release.
As far as studio albums go, O.A.R. hasn't released anything since their 2005 output Stories of a Stranger, but the CD has done extraordinarily well, charting a couple of singles and managing to stay in the collective musical discussion a couple of years after its release. Which is pretty incredible, really; a number of bands have blazed a similar trail of building a solid fanbase through grassroots promotion, word-of-mouth buzz and virtually constant touring – but O.A.R. has been uniquely successful with the formula, selling somewhere in the neighborhood of a million and a half records in their decade of existence.
The music championed in their approach is a reggae infused, lazily energetic mix of storytelling and a kind of feel-good celebration (and occasional outrage) of everything, really. That description doesn't suffice, though, since it makes them sound like Jack Johnson when that's not even remotely the case. They're more like a mix of Widespread Panic, Reckless Kelly and The Talking Heads, with a bit of Bob Marley thrown into the mix. We're not completely sold on their entire catalogue, but there are some definite standout tracks and, considering their concert reputation, makes for a pretty exciting local music event. In short, they've earned their reputation and June 19th offers a unique chance to hear a band coming through town that should truly be experienced live.
Presale tickets for the concert are available now for $20 in advance, or $22.50 at the door. This all-ages show gets underway at 7:30 with doors opening an hour prior at the Big Easy, 919 W. Sprague roughly at the corner of Sprague and Lincoln in downtown Spokane. For more information on this, or just about any other upcoming show in the Spokane area, log onto www.spokanesidekick.com.