Mistress And The Misters...
Mistress And The Misters...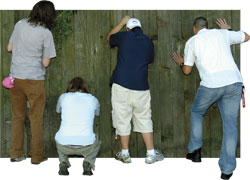 ...hold EP release show at The Blvd
Just eight short months after Mistress and the Misters released their full-length album, "Conflagration," they are back with a 5-song EP featuring their latest and greatest work. They will release this disc upon the world and kick off their summer West Coast tour on Friday, June 8th at the Blvd House of Music, located at 333 W. Spokane Falls Blvd. across from the INB Performing Arts Center. Joining the band are SiDEKiCK favorites La Cha-Cha, and Seattle power-rockers Iceage Cobra.
Music starts at 9 p.m. and unfortunately is limited to those 21 and older. Advance tickets are on sale for $5 through TicketsWest (see page 12 for locations) and will also be available at the door. This show will also be the very first SiDESHOW (SiDEKiCK's video podcast) filmed at a live performance. We are excited as this will be a fun departure from the previous three studio sessions we have taped and is possibly the only way to truly capture the frantic energy and eccentric showmanship of Mistress and the Misters. Look for the podcast at www.spokanesidekick.com shortly after June 8th.
...performs at SFCC Music Festival and benefit for Darfur
Community Colleges of Spokane is hosting a one day music festival that will allow you to not only get-down to five of the finest local bands in the area, but also learn a thing or two about the plight of the people of Darfur and how you can help, even from Spokane. This one-day event will take place on Friday, June 1st on the Spokane Falls Community College campus from 12:30 to 3:30 p.m. With music on both an outdoor and indoor stage, the festival will be enough to keep even the worst A.D.D. case captivated. A barbecue is also planned.
Providing music for these stages are Mistress & The Misters (see above), the heart-strung acoustic tunes of Paper Mache, the straight-up punk rock of Scatterbox, the experimental rock-tronica of Cyrus Fell Down, and a heavy dose of vintage punk from Lack of Respect. For a quick look at all five bands visit www.spokanesdekick.com and search "Darfur."
Throughout the event representatives from an SFCC student committee on Darfur will provide information on the humanitarian crisis in Sudan. For more information on this subject look online at www.savedarfur.org.
The two stages are located on the lawn in front of the SFCC Library, Bldg. 2 and in the SUB Lounges A and B, Bldg. 17. SFCC is located at 3410 W. Fort George Wright Dr. on the Northwest side of Spokane. For more information call Robert O'Mulvaney, SFCC student activities coordinator, at 533-3558.