News & Notes - 5/31/07
Seattle's Side Project returns to Caterina
Former Spokane band, The Side Project, is returning to their hometown on Friday, June 1st for a single show at Caterina Winery. This all-ages show gets started at 8 p.m. Cover is $7 at the door. Catarina is located at 905 N. Washington street kiddy-corner from the Red Lion In at the Park.
---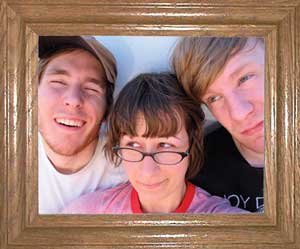 Another near miss for pick of the issue comes to Prago
Buffalo, New York trio, Lemuria is another band that just barely missed receiving the title of pick of the issue. The three musicians of Lemuria have such an infection blend of music that The SiDEKiCK has been playing their 4 myspace songs on loop for the last two hours. A good mix of catchy lyrics and driving melodies, you can sense an inherent hope in the band's music. Lemuria will be joined by The Ergs!, and Impact Exploder on Tuesday, June 5th at Prago Argentine Cafe, located at 201 W. Riverside next to the Lion's Lair. Music gets started early at around 7 p.m.
---
Pair of reggae/rock shows at Brooklyn Nights
Attention lovers of reggae/funk/rock music – Brooklyn Nights, located at 122 S. Monroe, will host two nights of Spokane-grown reggae-rock on the weekend of the 15th. First, The Working Spliffs take the stage Friday, June 15th for a 21 and older show that gets started at 9 p.m. The Spliffs are Steve Jackson on guitar, Brian Flick on trombone, Flor Sanchez on drums, and Laurie Jackson on bass and keyboards. Playing music with influences that ranges from Neil Young to UB40, that band will take you on a soundscape tour of modern musical history. The following night, Saturday, June 16th, will feature music by the Planetary Refugees. This show is also 21 and older and gets started at 9 p.m.
---
Ours not to be confused with O.A.R.
We had New York, alt-rock band Ours on the radar for awhile as a potential Pick of the Issue, then realized we forgot to even write an article about the damn show when all was said and done. We suck. Regardless, Bourbon Street should be rockin' on June 12th when they swing through town. Tickets are $15 in advance, $18 at the door, available through the usual TicketsWest channels. Fellow New Yorker April Bauer will be opening the concert, which gets underway at 8 p.m. For more info, check out www.spokanesidekick.com.