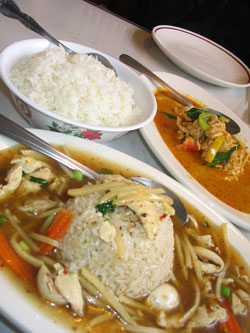 By Katie Shampeny
For most people, Thai food is not one of their first choices when dining out. And to be honest with you, I am not the biggest fan of Asian cuisine in general. However, I am a curry fanatic. And honestly, the Thai Kitchen has the best curry Iíve ever eaten.
Located in the Spokane Valley on Pines Road, the Thai Kitchen, from the outside, doesnít look like the most amazing place to eat. However, the amount of cars parked outside belies the unassuming exterior of this little restaurant. I immediately turned to the curry section of the menu and was debating between the red or green curry, when the waiter told me that the best curry in the house was the Panang curry. I went with his suggestion, and my taste buds are still praising his choice. It was the perfect amount of chicken, peppers, and basil leaves in the most amazing curry sauce ever. It was ambrosia in my mouth from the first bite. Like a crack addict trying to get a fix, I couldnít stop myself from going back for more until the whole meal was gone.
The meal was plenty to fill me up, but not make me feel sick from being too full. Besides the curry, they have a wonderful desert menu with sticky black rice pudding with coconut milk and Rambutan, a Tropical fruit. Mixing the two together is absolutely delicious, and a good way to tame flaming taste buds if you like your curry on the hot side. So try something a little different in your next adventure out to eat and try the Thai Kitchen. You might be surprised to find, like I was, that you like Thai food after all.
A.W. Rowse Says
The chicken was good, but I really should have ordered the Panang curry.
Hours
Lunch - Tues - Sat, 11 - 1:30
Dinner - Wed - Thur, 5-8:30: Fri, 5-9